Storms come into all of our lives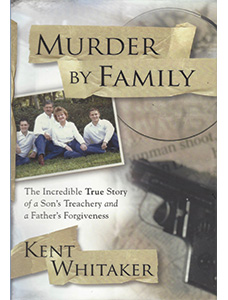 On December 10, 2003, Kent Whitaker was faced with a level of tragedy that most of us will never experience. Yet, he chose to trust God when it didn't make sense from a human perspective, and that decision changed his life.
In his New York Times best seller
Murder by Family,
and in riveting speaking engagements from coast to coast, Kent Whitaker takes that loss, and transforms it into a story of hope, encouragement, and bold new beginnings. Kent's story will challenge your faith and lift your spirit.
"Kent's story is amazing and inspiring! There is no better legacy that Kent can leave than his story for forgiveness and love."
—Pat Nolan, vice president, Prison Fellowship Ministries
"Twenty years working in television news has enabled me to recognize a powerful story when I see one. Kent Whitaker tells a remarkable first person account of love and unimaginable family betrayal that puts his faith to the ultimate test. His gut-wrenching moral dilemma will have you asking 'What would I do?'"
—Jay Young, Edward R. Murrow Award winner and two-time Emmy-winning producer, CBS